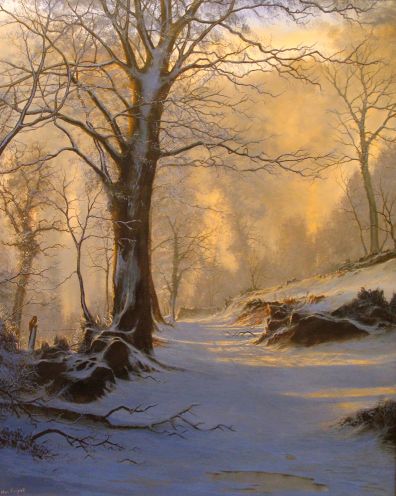 Watch my paintings being created on youtube
FOR INFORMATION ON MY OIL PAINTING TUITION
PLEASE LOOK UNDER EXHIBITIONS /WORKSHOPS.
Here is the link to my OIL PAINTING TUTORIAL DOWNLOADS https://vimeo.com/alankingwell/vod_pages
Please visit my page on AERA https://realist-art.com/gallery/painters/alan-kingwell/
During my years working for the Forestry Commission, I had the opportunity to experience the forest and moorlands in their many different moods throughout the year and, although in that period I had little time to paint, I still draw today on the images I recall and the feelings they invoke.
I still get the same excitement when faced with a blank canvas. And it still amazes me to watch each picture grow, sometimes in an unexpected direction. I often find it difficult to part with a finished work - I like to live with a painting for a while, but that's rarely the case, for as soon as it is completed it goes off to gallery and I never see it again. My work is regularly shipped to Ireland, where it is exhibited and sold in galleries throughout the country.
Over the last few years I have endeavoured to share the techniques that I have developed by holding regular oil painting workshops for very small groups, teaching people of all abilities. I also do ONE TO ONE TUITION .
These have proved to be very popular, and I always ensure that a pupil goes home with a painting that they can be proud of.
In June 2002 my career nearly came to an abrupt end when, on a walk with my family at The Dewerstone on the River Plym, I fell more than 35 ft into the swollen river breaking several ribs and receiving a severe compound fracture of the right forearm. The injury was so bad that the surgeons considered amputation, but they managed to piece my arm back together in a 5 hour operation. 9 months of physiotherapy followed before I was able to paint again. I will always be grateful to everyone concerned in my recovery.
One of the highlights of my career so far was having a painting shortlisted as one of 200 out of 15,000 entries in the Daily Mail 'NOT The Turner Prize' 2004. This painting was entitled 'Moonlight' and it was the first painting that I completed after my fall. I dedicated this painting to my partner, Mags, who helped me through the months of recuperation. It was exhibited and sold in The Mall Galleries in London. My art means more to me than just an income, and not being able to paint is a thing that I cannot contemplate.